Timothy E. Upham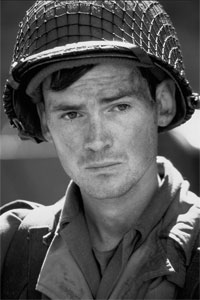 Rank: Technician 5th Class
Unit: 29th Infantry Division
Commanding Officer: Captain John Miller
A mapmaker and translator in the 29th Infantry Division, Timothy Upham (Jeremy Davies) was assigned to Captain John Miller's Ranger squad on June 9th in order to provide them with someone that could speak fluent French and German.
Following the death of the Ranger's medic after an assault on a German machingun emplacement, Upham agreed with Miller's unpopular decision to release the lone German survivor.
The Ranger company's search for Private Ryan ended at Ramelle on June 13th. During their defense of the city from a German attack, Upham found himself paralyzed with fear and unable to carry out his duties. The docile Upham's nature changed when he witnessed a German soldier, the same one the squad had set free days earlier, fatally wound Captain Miller. Upham advanced on the German position and held them at gunpoint. As Allied forces began to enter Ramelle, Upham shot the former prisoner and allowed the other German soldiers to escape.
Press Kit information:
Jeremy Davies was nominated for an Independent Spirit Award for Best Debut Performance for his starring role in David O. Russell's controversial contemporary comedy "Spanking the Monkey." The film also won the Sundance Film Festival's Audience Award and the Spirit Awards for Best Picture and Best Screenplay.
He then starred with Ben Affleck and Rachel Weisz in Mark Pellington's coming-of-age drama "Going All the Way," based on the Dan Wakefield novel. Davies most recently received critical acclaim for his poignant portrayal of an emotionally damaged young man named Flyboy in the dark and provocative drama "The Locusts," with Kate Capshaw, Vince Vaughn and Ashley Judd. His other film credits include Tamra Davis' "Guncrazy," opposite Drew Barrymore, Jan de Bont's "Twister" and Michael Apted's "Nell."
Davies just returned from location in the Czech Republic where he filmed "Ravenous," in which he stars with Robert Carlyle.
Notes
Although referred to throughout the film as a "Corporal," Upham actually carries the rank of a Technician 5th Class, which shared the same pay grade (E-5) as the Corporal rank, but did not come with any command responsibilities.
Although Upham indicates that his German is "clean with a touch of Bavarian," it would appear that he actually has a distinct American accent when speaking German.
Fact vs. Fiction
Upham is a fictional character.
There has been some criticism of the way that Upham haphazardly carries the .30 caliber ammo belts during the Battle of Ramelle. While this method is certainly not the best way to carry ammunition, as it would tend to stretch out the belts and possibly cause jams in the machine gun, photographic evidence does show that some soldiers did carry ammo that way.