Toynbe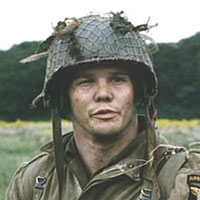 Rank: Private First Class
Occupational Specialty: Paratrooper
Unit: 101st Airborne Division, 506th Parachute Infantry Regiment, Third Battalion
On June 13th, 1944, Private Toynbe (Dylan Bruno), Corporal Henderson and Private Ryan were scouting in a field near the village of Ramelle when they encountered a recon element of the 2nd SS Panzer Division. After dispatching a German halftrack, the paratroopers discovered that a squad of Rangers were also in the field.
Private Ryan, upon learning that the Rangers had been sent to retrieve him because of the deaths of his brothers, refused to leave his position. He and the other paratroopers had been charged with defending Ramelle and its bridge, which was one of only two operational bridges that crossed the Merderet River. Ramelle had been devastated by artillery fire, and the paratroopers were preparing for a German ground assault. With Ryan refusing to budge, Captain Miller's Rangers chose to stay and help the paratroopers defend Ramelle. Miller took the lead in designing a defense with the sparse equipment that could be assembled, and suggested the use of makeshift sticky bombs to destroy the tracks of any attacking tanks. Having already rigged Ramelle's bridge with more composition B than was necessary, Toynbe was able to remove some of the explosives for use in making the sticky bombs.
Although Toynbe was able to survive through most of the ensuing battle in the streets of Ramelle, he was shot in the back as he attempted to retreat to a pre-planned fallback position known as "The Alamo."
Fact vs. Fiction
Toynbe is a fictional character.