Parachutist Badge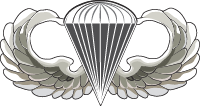 The Parachutist Badge (also known as "jump wings") was designed by Captain William P. Yarborough and was authorized on March 10th, 1941.
Paratroopers of the 82nd Airborne Division and the 101st Airborne Division were awarded the badge when they completed required training, or after they had completed at least one combat jump.
Senior and Master variations on the Basic parachutist badge were approved in 1950, as well as the later addition of combat jump stars, which were worn unofficially by some paratroopers in World War II.