82nd Airborne Division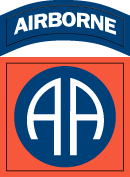 The 82nd Infantry Division was activated on August 25, 1917 at Camp Gordon, Georgia. Because the division contained men from all 48 states, the 82nd was named the "All American" division. The unit first participated in combat on June 25, 1918 in France during World War I. The division was deactivated on May 27, 1919.
The 82nd was reactivated on March 25, 1942 at Camp Claiborne, Louisiana and later redesignated as an airborne unit on August 15, 1942. Prior to entering combat in World War II, the 82nd was relocated to Fort Bragg (where it remains to this day).
The 82nd's first combat engagement was the Allied attack on the island of Sicily on July 18/19, 1943. The 82nd also participated in the September 9, 1943 attack on Italy at the Gulf of Salerno.
In November most of the 82nd travelled to England in order to prepare for Operation Overlord. The 504th Parachute Infantry Regiment was detached and participated in the January 22, 1944 attack on Anzio in Italy.
For Operation Overlord the main forces of the division consisted of the 505th, 507th and 508th Parachute Infantry Regiments and the 325th Glider Infantry Regiment. Because of its recent action in Italy, the 504th Parachute Infantry did not participate in the initial attacks.
On D-Day the 82nd Airborne Division had the following objectives:
Mark Landing Zone W at Les Forges (505th PIR)
Capture Sainte-Mère-Église (505th PIR)
Capture bridges over the Merderet River at La Fiere and Chef-du-Pont (505th PIR)
Prepare defenses on the west bank of the Merderet River and assist the 505th PIR (507th PIR)
Capture and destroy bridges over the Douve River at Beuzeville La Bastille (508th PIR)
In spite of many of the 6,600 paratroopers being dropped out of position, the 82nd was able to meet its goals and liberate the french village of Sainte-Mère-Église by the end of the day on June 6, 1944.
The All-Americans fought in Normandy for 33 days, and were returned to England in July. They suffered more than 5,000 casualties during the Normandy campaign.
The 82nd would later participate in Operation Market Garden, an Allied attack into Holland on September 17th, and the Battle of the Bulge, a German offensive in the Ardennes Forest in December of 1944.
The 82nd Airborne Division is still active, and since World War II has seen action in Vietnam, Grenada (Operation Urgent Fury), Panama (Operation Just Cause) and Iraq (Operation Desert Storm and Operation Iraqi Freedom).