Jean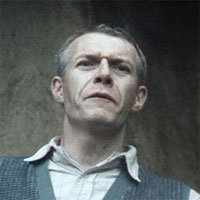 Sometime between June 6th and June 13th, 1944, Jean (Stephan Cornicard), his wife (Michelle Evens) and three children (Anna Maguire and Martin Beaton), residents of the French village of Neuville-au-Plain, had their home severely damaged by an artillery shell.
When a mixed group of paratroopers and Rangers passed by the shattered remains of their home during a driving rainstorm, Jean wanted to give his children to the soldiers in the false belief that they might be safer with them.
One of the Rangers, Private Caparzo, took Jean's young daughter, with the hope that they could take her to a safer location. Caparzo's commander, Captain Miller, grabbed the child away from him, and moments later Caparzo was fatally shot by a German sniper. Jean's daughter was forced to hide with the soldiers until the sniper was killed. When reunited with her family, the girl proceeded to scream and slap Jean for putting her into danger.