DeForest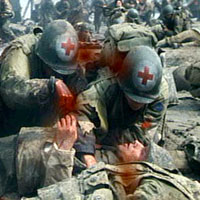 Rank: Unknown (Officer)
Occupational Specialty: Battalion Surgeon
Unit: 2nd Ranger Battalion?
DeForest was injured severely during the initial assault on Omaha Beach by Company C of the 2nd Rangers. Medic Wade refused to give up on him despite the urging of a senior medical officer. Although Wade was able to stop the bleeding, DeForest was killed moments later when a bullet penetrated his helmet.
Notes
DeForest is presumably a Ranger since he is recognized by Private Caparzo, and because of Wade's tenacity in treating him in the field despite the severity of his wounds. It is unclear whether the real Rangers of Company C landed with a battalion surgeon amongst their numbers.
On a small technical note, the initial bullet hole (possibly a computer graphics effect) in DeForest's helmet is different from when the helmet is shown a few scenes later.