TNT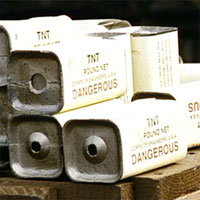 Trinitrotoluene (TNT) is a high explosive derived from the nitration of toluene with sulfuric and nitric acids. It was developed in 1863 by Joseph Wilbrand, a German chemist.
A fairly stable explosive material, TNT is a yellow crystalline solid with a melting point of 82°C.
Notes
Boxes of TNT can be seen in Ramelle while the Rangers and paratroopers prepare sticky bombs.