SCR-536 Radio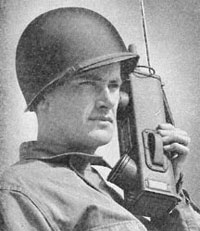 The SCR-536 was a two-way, portable radio used extensively by United States armed forces during World War II. It was known by the name "Handie Talkie." Production on the SCR-536 radio began in July of 1941, and approximately 130,000 of them were built by Galvin Manufacturing Co./Motorola of Chicago, Illinois.
The SCR-536 was waterproof and could be submerged for a period of time without affecting its performance. The radio was turned on by pulling out its antenna, and turned off by collapsing the antenna.
For his work on the SCR-536, Don Mitchell, chief engineer at Galvin, was awarded the War Worker's Award from the Chicago Tribune on September 21, 1944. Galvin was awarded five Army-Navy "E" Awards during World War II, in part to its SCR-536 and SCR-300 radio designs.
Notes
Captain Miller is seen using a SCR-536 once his company makes it to the top of the bluff at Omaha Beach.
Conflicting sources indicate that SCR stands for either "Signal Corps Radio" or "set, complete, radio."