Edith Piaf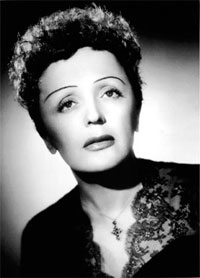 Born into poverty as Edith Giovanna Gassion on December 19, 1915 in Paris, France, Edith Piaf went on to become a popular music hall singer. Her stage name was French slang for "(the kid) sparrow," and was given to her at the age of nineteen by Louis Leplee.
During World War II Piaf worked with the French Resistance by using her popularity to have herself photographed with French prisoners that she had performed for. These photos were then used to make identity papers that would be smuggled back to the prisoners during her return engagements. Piaf died of cancer in the south of France on October 11, 1963.
During their preparations to defend the town of Ramelle on June 13, 1944, members of Captain Miller's Ranger company took a brief respite and listened to Piaf's "Tu es Partout," a song featured in the 1941 film Montmartre sur Seine, as well as another Piaf song, "C'etait Une Histoire D'Amour."
Notes
"Tu es Partout" is playing while Corporal Upham translates the lyrics and Private Reiben relates his experiences with Mrs. Troubowtiz. "C'etait Une Histoire D'Amour" is playing while Private Ryan tells Captain Miller about his brothers just before the German attack begins.