USS Juneau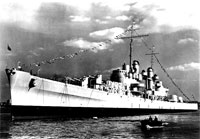 The Atlanta class light cruiser USS Juneau (CL-52) was sunk by a Japanese torpedo (launched from submarine I-26) on November 13th, 1942, during American efforts to resupply Marines holding the island of Guadalcanal. Juneau was actually hit twice, once in the early hours of the morning on November 13th, and the second time later that day before noon. The torpedo that sunk Juneau had been part of a group of three that had been fired at the cruiser USS San Francisco.
On board Juneau were the five Sullivan brothers; Albert, Francis, George, Joseph and Madison, all of whom were killed. The brothers had insisted on serving together in spite of pre-existing Navy policies designed to prevent the sudden loss of multiple family members at one time.
Because of the presence of Japanese ships in the area, and the assumption that survivors were unlikely, little effort was spent on an immediate search, and only a few Juneau sailors were recovered.
Fact vs. Fiction
USS Juneau is mentioned in the War Department scene when General Marshall is told about the deaths of the three Ryan brothers. Prior to Juneau's sinking and the loss of the Sullivan brothers, the Ryan brothers had all served in the same company of the 29th Infantry Division.
Although the Navy did have a policy that tried to prevent brothers from serving aboard the same ship, that policy was proposed following the loss of three brothers aboard USS Arizona at Pearl Harbor, and was not connected to the loss of the Sullivans. Such attempts to keep brothers apart were rarely enforced, however, hence the loss of the Sullivan brothers a year after Pearl Harbor.