Jeep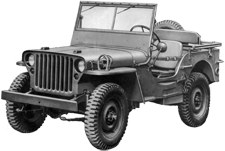 The original government specifications for a small, lightweight reconnaissance vehicle—the Jeep—were published in July 7, 1940. Of the over 130 car manufacturers that were contacted to submit designs, only Bantam was able to produce a prototype in the required span of 49 days. Two other companies, Willys-Overland Motors and Ford Motor Company, both of whom were given access to the blueprints of the Bantam design, also produced prototype vehicles. 1500 prototypes of each these three company's design were ordered for testing, with the Army eventually decided on the Willys design in July of 1941.
Although Willys had won the contract on a lower bid, the actual manufacturing of the Jeep would be done by Willys and Ford. The Willys version of the Jeep was known as the MB, and the Ford version as the GPW. Both versions of the Jeep were essentially the same, with only minor cosmetic differences. By war's end Willys manufactured 360,000 of the MB model, and Ford manufactured 278,000 of the GPW model.
By the mid 1960s the Willys-Overland name was discontinued by the Kaiser-Jeep company. A new Willys-Overland company was created in the 1970s and specializes in parts for Willys and Jeep vehicles.
Notes
One of the cuts made in Saving Private Ryan involved Miller's company, riding in the Jeep and trailer they leave Omaha Beach in, losing their Jeep and ammunition to German artillery. The novelization for the movie contains details of this missing scene, and a reference to the lost ammunition still remains in the movie.