M1 Helmet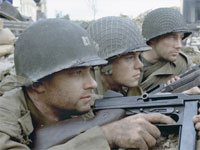 The United States Army's M1 Helmet entered service in the early 1940's and consisted of a steel shell ("pot") and a detachable interior plastic shell liner to which was connected the helmet's adjustable web suspension system. The chinstrap was separate from the helmet liner and was attached to the steel shell. Optional netting could be used to cover the steel shell in order to provide a surface on which camouflage materials could be attached.
The steel shell of the helmet was often used for a variety of non-combat tasks. They could be used to bail water from a landing craft, as a makeshift shovel, for cooking, as a bowl from which to shave from, and just about anything else that a soldier could think of.
The chinstrap itself was often left undone (placed back on the rear of the helmet) in the mistaken belief that the force of an exploding artillery shell could catch the helmet and possibly decapitate or strangle a soldier with the chinstrap. Although the interior suspension system was adjustable and was enough to keep the helmet on the soldier's head in most situations when the chinstrap was not used, there were times when a soldier was forced to hold his helmet on his head with a free hand. The commanding officer of the 29th Infantry Division required that all of his men fasten their chinstraps at all times.
Use of insignia and rank on helmets was quite varied and inconsistent during World War II. See helmet markings for more information.
Standard colors for M1 Helmets in World War II were olive drab for the shell and liner, and khaki for the chinstrap.
Approximately 22 million of the steel shells were manufactured during the war, along with 33 million liners. With modifications and alterations, the basic M1 helmet is still used today alongside more modern designs.
Paratroopers wore a helmet variation known as the M1C, which featured a padded chinstrap and a system designed to prevent the helmet liner and shell from separating during a jump.
Notes
WWII Impressions of Downey, California provided some of the helmets used in the film.
Fact vs. Fiction
One of the primary reasons that I started this site was my confusion at seeing the characters in Saving Private Ryan running around holding their helmets on with their hands. I assumed this was a "Hollywood" kind of thing—actors who really didn't know how to wear a helmet properly. A little research showed that this would have been the way many soldiers acted, and that the interior suspension system was good enough to keep the helmet on most of the time.