M7 Grenade Launcher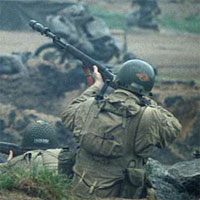 The M7 grenade launcher was designed for use with the M1 Garand rifle, and went into service in 1943. When placed over the barrel of the M1, the rifle could no longer fire in semi-automatic mode (later versions would allow for semi-automatic rifle fire with the grenade launcher in place).
The M7 grenade launcher could fire regular Mark II fragmentation grenades when used along with the M1A2 rifle grenade adapter, or with specially-made grenades such as the M11A3 rifle grenade.
Although it is hard to tell, the grenade launcher in Saving Private Ryan should be the M7 version, as the other modifications (M7A1, M7A2 and M7A3) would not have been in service in mid-1944. The soldier seen firing the M7 grenade launcher should have placed the butt of the rifle on the ground due to the significant recoil of firing a grenade. The Ranger in the film is seen firing what looks like an M11A3 rifle grenade.