Saving Private Ryan DVD
D-Day 60th Anniversary Edition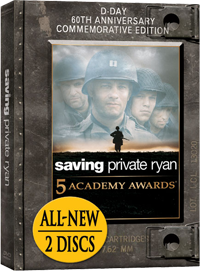 Studio: DreamWorks Home Entertainment
Release Date: May 25th, 2004
Number of Discs: 2
Running Time: 2 hours 49 minutes
Rating: R
Aspect Ratio: 1.85:1 anamorphic widescreen
Sound: Dolby Digital 5.1 Surround, Dolby Pro-Logic Surround
Disc 1
Feature (same transfer as the original DVD release)
Disc 2
An Introduction to the Film
Looking Into the Past
Miller and His Platoon
Boot Camp
Making Saving Private Ryan
Re-Creating Omaha Beach
Music and Sound
Parting Thoughts
World War II Collection
The World War II Collection includes the following:
Saving Private Ryan D-Day 60th Anniversary Commemorative Edition DVD (DTS surround)
Price for Peace: From Pearl Harbor to Iwo Jima documentary DVD
Shooting War: World War II Combat Cameramen documentary DVD
Saving Private Ryan: The Mission and the Movie booklet
Price for Peace and Shooting War are World War II documentaries produced by Steven Spielberg. Shooting War is narrated by Tom Hanks. Both documentaries are available for sale separately. It is important to note that the WW2 Collection version of Saving Private Ryan contains a DTS and Dolby Digital Surround track, but no Dolby Digital 5.1 track. The booklet is a trimmed down version of the larger Saving Private Ryan: The Men, The Mission, The Movie book that has been out for some time.