Dale Dye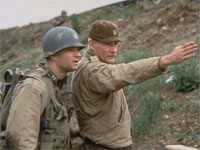 Captain Dale Dye, USMC (ret) is a top military consultant to the entertainment industry, whose expertise has been invaluable to numerous military-themed motion picture and television projects. He worked with Oliver Stone on his Oscar-winning film "Platoon," as well as on his subsequent films: "Born on the Fourth of July," "Heaven and Earth," "Natural Born Killers" and "JFK."
Dye's other movie credits include the Academy Award-winning "Forrest Gump," "Casualties of War," "Sniper," "Under Siege," "The War," "Outbreak," "Sgt. Bilko," "Mission: Impossible," "Starship Troopers" and DreamWorks' upcoming "Small Soldiers." He has also advised on numerous television shows, in addition to authoring five novels, including the New York Times best-seller Platoon, based on the hit movie.
Born in Cape Girardeau, Missouri, Dye graduated from Missouri Military Academy and enlisted in the United States Marine Corps in January 1964. He served in Vietnam in 1965 and 1967 through 1970, surviving 31 major combat operations and earning a number of decorations, including three Purple Hearts for wounds suffered in combat.
Having risen to the rank of Master Sergeant during his 13 years as an enlisted Marine, he was chosen to attend Officer Candidate School and was appointed a Warrant Officer in 1976. Promoted to Captain, he was sent to Beirut with the Multinational Peacekeeping Force in 1982-83. He served in a variety of assignments around the world, while earning a B.A. in English from the University of Maryland.
After retiring from the Marines in 1984, Dye worked for a year at Soldier of Fortune magazine. He spent time in Central America, reporting as well as training troops in guerrilla warfare techniques, before leaving the magazine in 1985 and heading for Hollywood.
Notes
Along with his role as senior military advisor, Dale Dye plays a small role in Saving Private Ryan as a War Department colonel present when the deaths of the Ryan brothers are reported to General Marshall.