I.W. Bryce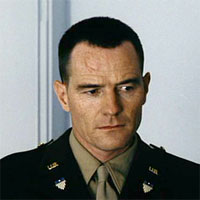 Rank: Colonel
Occupational Specialty: Unknown
Organization: Army General Staff, Adjutant General
Previous Unit: 2nd Infantry Division
Sometime between June 6th and June 9th, 1944, Colonel Bryce (Bryan Cranston) was informed by Captain Sanders that the Ryan family of Payton, Iowa had recently lost three of its four sons in combat, and that a fourth son, Private James Ryan of the 101st Airborne Division, was possibly still alive and somewhere in Normandy.
Sanders and Bryce took this information to General Marshall, who ordered that a rescue mission be launched in order to bring Ryan back home and spare his family the loss of their lone remaining son.
Notes
As a member of the Army General Staff in the Adjutant General branch of service, an officer such as Bryce would not normally wear a unit patch, since his duties would cover a much broader scope and would not be confined to a particular unit. An exception to this is that officers who have participated in combat with a unit are authorized to wear that unit's patch, known as a shoulder sleeve insignia for former wartime service, on their right sleeve.*
Bryce appears to have served in combat with the 2nd Infantry Division during World War I, since the 2nd Infantry Division did not enter combat in World War II until June 7, 1944 (D-Day +1). A World War I Victory Medal ribbon can be seen on Bryce's uniform.
U.S. Army Wear and Appearance of Army Uniforms and Insignia (PDF | 2.9 MB) does not indicate that soldiers who served in World War I were authorized to wear a shoulder sleeve insignia for wartime service, so there is still some question as to the authenticity of Bryce wearing such a patch.
Fact vs. Fiction
Bryce is a fictional character. It is no coincidence that one of Saving Private Ryan's producers was Ian Bryce, this character's namesake.